About Me
Il desiderio di effettuare collegamenti radio sempre più lontani
Sono nato nel 1978 e al compimento del mio 12esimo compleanno mi regalarono una radio CB (Midland Alan 34s - e chi se lo scorda più); da quel momento, in compagnia di due miei cugini (Antonio IZ7JXB e Carlo IK7QOY -silent key-) ho cominciato ad avvicinarmi all'arte del DX, alla ricerca dei collegamenti radio sempre più lontani sino a diventare, nel 2009, radioamatore con il nominativo IZ7RJT.
Oggi il mio hobby principale è appunto contattare quante più persone nel mondo in tutti i modi di emissioni consentiti. Sono sposato con Chiara e vivo a Mola di Bari, una piccola città a 20km a sud di Bari (il capoluogo della Puglia). Un 73 a tutti coloro che visiteranno il mio sito...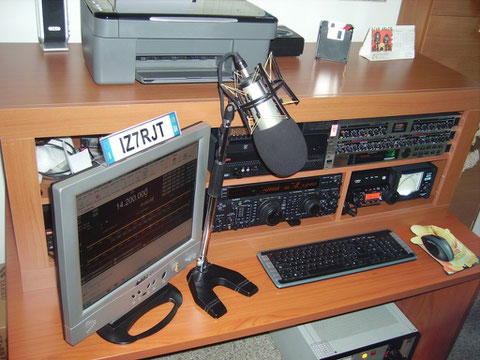 The wish of far Contacts Radio
Giuseppe was born in 1978 and when he had 12 years old he had in gift a CB Radio; always with two cousinses (Antonio IZ7JXB and Carlo IK7QOY -silent key-) he begins a distance will mark that it in the time till to become Amateur radio operator in 2009 with ministerial nominative IZ7RJT. Now its main hobby has become to connect many people in the world through the Radio in any way of emission. He is married with Chiara and he alive in Mola di Bari, a small city of the south Italy to 20km from Bari. Sorry but my english it's no very good... 73 to all visitors of the website!